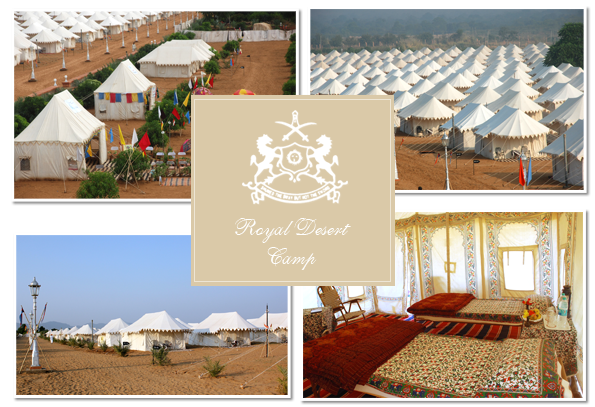 Royal Desert Camp
The Great Indian Thar Desert
---
The hippest way to rejoice in the real Rajasthani experience is through luxury camps and tents. A romantic culmination of dreams, a veritable recreation of a lifestyle which was once relished by the rulers of Rajputana in repose; the Desert Camp by Pushkar Palace offers an immensely delighting way to enjoy the tranquility and serenity of the desert exactly the way it was centuries ago.
The concept of Royal Desert camps traces its birth from the 17th century, when the Mughal rulers, infamous for their luxurious lifestyle, used to pitch regal-style camps where ever they go for hunting, excursions or the battle field. These regal tents were equipped with all the facilities fit for royalty. The tradition then prevailed among later Rajputrulers for their hunting trips, social and royal gatherings and other pursuits.
---
Settled at the Ganahera village on Motisar Road at a small distance of around 600 metres from Pushkar, Royal Desert camp offers a luxurious solace in the midst of desert wilderness and breathtaking beauty of sand dunes where outdoors breathe indoor and the time stands still. 
Desert Wilderness and Breathtaking Beauty
T he yurt of rare exclusivities, Royal Desert camp consists of 200 regally interior designed, safari-style tents pitched in a manner to accommodate mesmerizing vistas of sunrise, sand dunes and the complete desert horizon.  These tents are smartly luxurious with customized block print linings, large beds and dramatic lamps that illuminate the tents effectively at night. 
L arge windows have pull up flaps to allow light and fresh desert air through and permanent insect netting to keep out any unwelcome visitors.The attached modern bathrooms have running cold and hot water. Lending warmth on colder desert nights is an electric blower in each tent.
T he savory vegetarian meals are served at three differently themed dining tents offering spacious seating arrangements.  The stunning view of desert mirages from these dining tents adds to the delight of having scrumptious royal cuisines.
Book Your Tents Now!
---
Check our rooms below and choose right offer for your needs. We provide an online reservation system where you can book them in few easy steps.