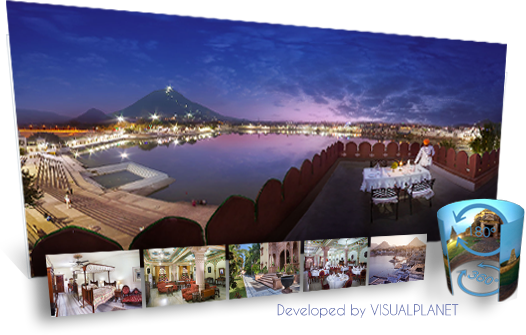 360° Virtual Tours
Awesome 360° Views inside of our Hotels
---
360° Virtual Tour is an innovative 3D presentation technology, recognized worldwide as the best way to demonstrate any space with help of Professional Photography and Web Programming. Unlike still photos, 360° Presentation creates a sense of presence, allowing you to consider in detail any space. You can "manage eye" by his own will using a computer mouse to make a full review of 360° degrees around, zoom in or out of interest.
We are poud to offer you an interactive 3D media format that contains a full 360° view of all our hotels in High Definition developed for us by VISUAL PLANET International Project.
We all know that first impressions ARE everything. Sometimes words aren't enough to describe it. You have to see it yourself! Our Hotels can inspire, excite and intrigue – for a 360° view that will do the same, let`s come inside!
---
Hotel Pushkar Palace
Exterior and Interior 360 Tour with 9 location
Hotel Pushkar Palace has well appointed 45 Super Deluxe Rooms and 5 Suites with all facilities in the rooms. Hotel has two floors, most of the rooms including all suites are overlooking the lake and has garden view. In this 360 Tour you will see two types of rooms, restaurant, wide open corridor and amazing rooftop views on Pushkar lake. Come inside!
---
---
Jagat Palace
Exterior and Interior 360 Tour with 17 locations
Jagat Palace with it`s 82 super deluxe spacious AC/Heated rooms have been tastefully furnished in art-deco style to blend with the Rajasthan art and architecture. Your stay with us will be a life time experience. In this 360 Tour Tour you will see all types of rooms, restaurants, swimming pool, open areas overview and many other places. Do not wait, please come inside!
---
---
Royal Desert Camp
Exterior and Interior 360 Tour with 4 locations
Well appointed 169 AC/ Non AC Swiss cottages (with attached bath, running hot & cold water) tents equipped with best quality linen, furniture and facilities in specially designed modern toilets . In this 360 Tour you will see our cottages overview and restaurant. Do not wait, please come inside!
---